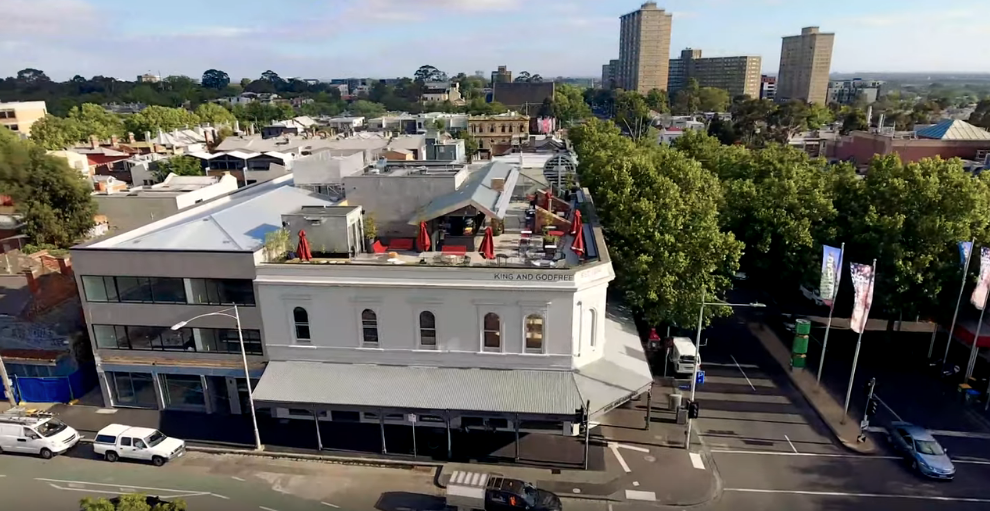 Neoscape | Projects - King & Godfree "Transformation of a Melbourne Icon"
17/12/2018
The iconic King & Godfree first opened its Lygon Street doors in 1884.  Following the purchase by Carlo Valmorbida in 1955, the Valmorbida family, synonymous with Italian culture, has since owned and operated the premises, temporarily closing its doors in 2015 to undertake a major transformation. 
The newly launched King & Godfree redevelopment over three levels boasts a ground floor deli, espresso and wine bar and adds to Lygon Street's night vibrancy with a basement cellar for high-end wine connoisseurs and Johnny's Green Room roof top bar offering room for 200 patrons and providing sweeping views of the CBD skyline. Integral to the redevelopment was the Valcorp building fronting Faraday Street, adding 1200 square metres of office space, which has signed notable initial office tenants, such as Universal Music.
Neoscape worked closely and collaboratively with the client, entrusted to third generation cousin's Luca Sbarbella and Jamie Valmorbida under the guidance of Luisa and John Valmorbida, the consultant team and builder to ensure the quality of this heritage-listed building.
Neoscape is proud to have been appointed as Project Manager and Superintendent by King & Godfree and to be involved in the successful delivery of this truly iconic landmark building.
For more information about this Neoscape project, please visit our project page.
Back to Articles